Concrete, Foundation or Water Problems Around Indianapolis?
These pros furnish sensible and reasonable approaches to many common house structure, cement slab or wet basement predicaments.
If you are going through one of these situations at your house in Lawrence, Greenwood or other suburb, they are a good choice to give you a hand.
Your contractor will provide some points on the phone, or set up a meeting to drive over to give your building an inspection and provide some suggestions on how to correct it.
How Do I Know if My Home Has a Problem?
When it comes to spotting home structure issues, in some instances the property owner knows right away that something is wrong.
In many cases, the symptoms are really clear.
Other times the signs are not easy to see.
And these troubles can come up in all types of houses, no matter what Township you are in or what kind of design or age they are.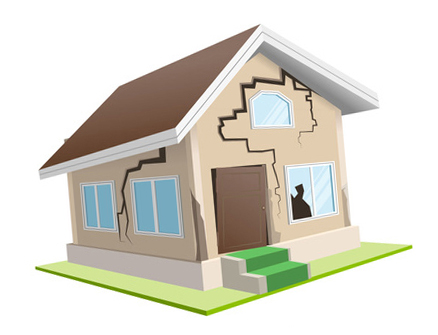 Common Clues That Might Suggest You Have a Problem:
• Gaps around an interior door, exterior door or garage door
• Exterior or interior brick walls or mortar have cracks
• Significant cracks in a concrete foundation or basement cement floor
• Cracking going up and down in drywall, even if they're not too long
• Uneven or spongy interior floors
• Visual gaps between exterior walls or wall and chimney
• Windows or doors are opening and closing hard and sticking to their frames
• Cracking in exterior walls
• Water gets into your basement more than once
• A wet crawlspace or puddles of water near your home after it rains
• Separations or cracks in interior molding
• Spaces between walls and ceiling or the walls and the floor
Worried The Repair Will Get Expensive?
Sure, often these issues appear as if they will be very difficult to correct.
A Lawrence or Greenwood homeowner might imagine their house problem is near impossible to correct, or it will cost a lot of money to get done.
But most situations can get fixed at a reasonable cost.
That being said, remedying a home structure situation will take a trained contractor along with a trustworthy work crew.
Additionally, they require the right equipment and tools to elevate and adjust a house that is no longer straight and level.
Basement Waterproofing Service in Indianapols
If your basement gets wet, an inspection will attempt to find out what is allowing rain water to get in it.
The plan to waterproof your basement might not involve any serious work to the structure itself, but just the ground and landscaping all around the dwelling.
Your contractor will create a plan to remedy the situation.
Indianapolis Mudjacking and Slab Lifting Services
If a section of your cement walkway, terrace or porch has sunk under where it once was, they can adjust that too.
They make use of a operation called mudjacking (otherwise known as slabjacking).
The process of mudjacking is generally reliable, yet quite simple.
They work with a heavy liquid compound which they pump straight underneath the cement section that has sunken down.
This substance flows out and fills up all of the vacant spaces and then begins to force the slab up.
When that slab has gotten to the ideal height, they stop. Pretty simple really.
Sometimes a property owner wants slab jacking performed mainly in an effort to improve the appearance of their property, but concrete slab raising can aid in reducing accidental trips that result from walking on uneven pavement segments.
Many jobs are completed in one morning or afternoon.
Why Is This Happening to My House?
Well, it's just how our topsoil acts.
The earth which lies directly below your place changes occasionally.
It shifts and moves. The earth may get bigger and shrink depending on exposure to water and temperature.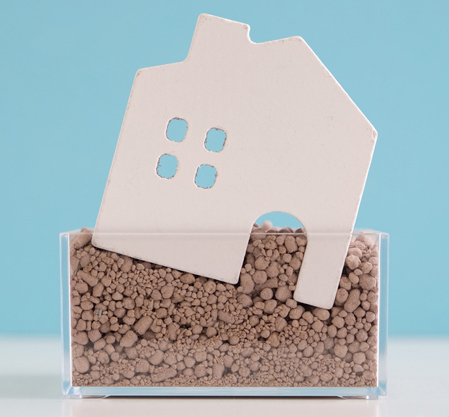 This nonstop expansion and contraction of the earth your house rests on might put stress on every house, new or old.
Although you can't change our weather, getting your house constructed on a lot that has poor drainage and insufficient grading or declining to put in quality rain gutters could be major factors in whether or not your property gets a structure or water situation.
Some homeowners run into complications in these areas; many others will not.
One of the greatest methods to stop house foundation problems is to keep water from collecting around and under a house.
Another significant element in deciding possible structure challenges is the physical composition of the soil the house is situated on.
There are particular varieties of soil which trap more moisture than other soil types do.
In most of Marion, Johnson and Hamilton County, we are fortunate, much of our soil makeup is classified as just average when it comes to being absorbent.
Another issue, although it is not as prevalent, is having a major tree that is too near your residence.
A huge tree could have lots of long roots that grow well beneath your home.
These extensive roots might suck all the remaining moisture out of your ground during extended dry Summers and might even place some physical strain on your building's structure too.
The natural physical forces of nature may lead to the development of microscopic cracking in your home's structure.
These smaller cracks invite in moisture and humid air and perhaps a small insect or two, and those teeny cracks start to get wider every year.
Can't I Just Wait and Do It Later?
If you believe you could have a predicament, make an appointment to have it looked at by somebody who has experience in this field.
Even though you don't have the job started right away, at least get somebody to evaluate it so that you know what your situation is.
Even though we would hope these conditions to simply disappear, they normally won't.
Conditions such as foundation crack repair had better be solved sooner as opposed to later.
The base of your home physically props up the full remainder of your house, from walls to the roof.
You'll want to manage these issues instead of putting them off for another time.
If there is water often seeping into your basement, that can cause troubles like mold.
And mold growth will just become worse every year too.
If you're thinking about trying to sell your home, there's no buyer that wants to buy a property that has any kind of structure issue or shows noticeable indications of water leakage in the basement.
And, if you are going to sell your house, it's your obligation to let the buyer know about any physical issues with your house.
Regardless of how terrible your circumstances might seem, almost all predicaments can be repaired.
Some jobs are larger than other ones and some can incorporate a complicated repair process, but they can get done.
So try not to get worried until you have your property inspected.
Making the Best Choice?
This is an organization who have been working on projects in this particular home improvement field for some time.
They will be performing this type of work long into the future too.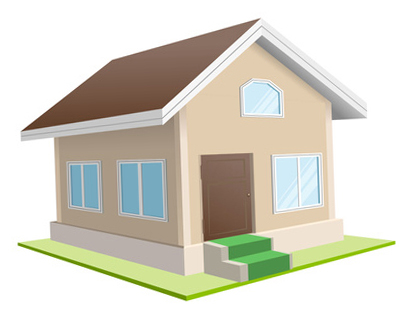 These work teams have the required experience to complete a thorough structure inspection and also properly and effectively work to eliminate your property problem.
Indiana Suburbs Where Jobs Get Done
The typical support area primarily includes most of the metro area including Pike Township, Wayne Township, Decatur Township, Center Township, Perry Township, Lawrence Township, Warren Township and Franklin Township.
Suburbs include the central district, Lucas Oil Stadium, the Zoo area, Eagle Creek Park, Lawrence, Castleton, Speedway, Warren Park, Eastgate, Irvington, the Airport area, West Newton, Homecroft, Southport, Perry Park, Butler University district, Acton, Wanamaker, Beech Grove, Garfield Park, Meridian-Kessler, Greenwood and up to Carmel.
If your Indiana home sits in an area that they can't service, they'll simply tell you when you call.
What They Can Do For You:
Taking On Projects Here:
All the townships
Stadium and Zoo areas
Lafayette Square Mall area
Castleton
Speedway
Irvington
Bosart Brown
The Airport
West Newton
Homecroft
Southport
Greenwood Place
Wanamaker
Acton
Butler University Area
Meridian-Kessler
Lawrence IN
Greenwood IN