Foundation, Concrete or Water Problems Near Schaumburg?
These northwest Chicago pros affordably repair concrete cracks, settling concrete slabs, building structure concerns and wet or damp basements.
If you feel your property has a situation in one of these categories, just call and talk about it.
They are willing to talk it over right on the phone.
And maybe you could schedule a time to drive by your house and have a closer look.
Does My Home Really Have a Problem?
Look, in many cases, it can be hard to identify if you have a real challenge or not.
For example, many concrete floor cracks are normal and ordinary; other times, they might suggest a problem.
In other situations, like when you have water in your basement anytime it rains, it's quite apparent you have a problem that needs handling.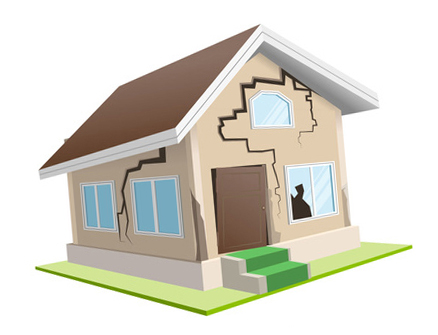 What To Stay On the Lookout For:
• An unusual crack in your foundation
• Gaps around doors and trim, such as external doors and garage doors
• Uneven or sloped interior floors
• Doors and windows that stick to their frames when you try to open or close them
• Splits in outside or inside brick walls or mortar
• There is water in your basement after a rain
• Separating or cracking interior molding, normally door molding or crown molding
• Splits in a solid surface exterior or interior wall
• Vertical cracking in drywall, happens most between a door frame and ceiling
• Water pooling too close to your home
• Significant crevices in a cement basement floor
• Floors have become uneven, spongy, or floor tiles are loose or broken
• Cracks between a ceiling and a wall or the floor and a wall
• Separations between exterior walls or a wall and chimney
• Your basement seems humid, damp or has a musty smell
Can My Issue Even Be Corrected?
Significant structural problems are tough to repair, but they can be done.
Homeowners often imagine their problem is too hard to fix, or it will cost too much money to solve, but that is not necessarily true.
With that in mind, remedying a building structure problem takes a professional contractor along with a trustworthy crew.
They also have to have the proper equipment and tools to raise and correct a house that is no longer straight and level.
Waterproofing Basements in Elgin and Palatine
If you are suffering from a wet basement, a trained technician can find out what is going on and discover how water is able to drain into it.
To get your house water tight, they might do a little work inside the basement, or they may aim their attention only on the ground and landscape areas around your house, or it might be necessary to do a mix of the two.
Quite often, just a moderate regrading of the lot, putting on gutters or investing in an outside drain can take care of the problem without the need to work on the basement walls at all.
Sunken Concrete Slab Lifting in Arlington Heights
If parts of your cement patio, sidewalk, porch or entrance has sunken a little over the years, they can generally fix that as well.
The method used to raise these sections back up is called either slabjacking or mudjacking.
In order to raise your slab, they shoot a mud-like substance down under the portion of your lowest slab. This filler swells, solidifies and presses your concrete back up to the suitable position.
Cement slab lifting is really an budget friendly approach to mend your sloping patio or walkway.
It also help stop trips and falls.
Why Do These Problems Come Up?
Beneath your home and driveway, the soil is deliberately on the move.
It expands and contracts because of exposure to water, temperature and other elements.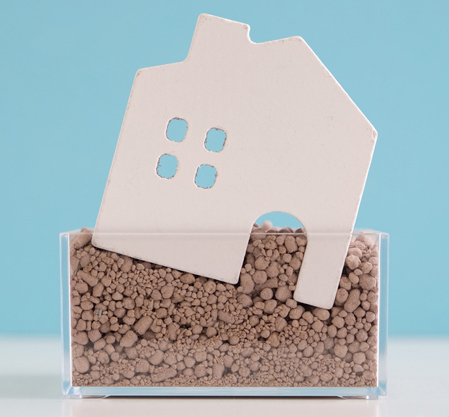 This slow, but sustained motion can cause the structure above the soil be stressed.
Sections of house foundations might barely move up or down or sideways. But even just a little motion, over a few years, can lead to a serious issue with the structure itself.
A house that is built on a properly graded lot, where excess water is encouraged to move away from the home, and a house which has a decent rain gutter system is in a stronger position to withstand these issues than a home which does not have good lot grading or suitable gutters.
Another factor that affects this issue is the scientific composition of the soil under the home.
Different types of soil vary with the volume of moisture they retain.
Some soil sustains more water (thereby swelling) more than other types do.
It doesn't occur too often, but simply having a really big tree up close to your house might become a contributing variable.
The roots from a big tree might go well under a house and extract moisture from below that building during dry and hot summer months.
This can make that ground too dry. And when it's way too dry, it contracts and shrinks.
Through the years, a home may eventually form a minute crack or two.
And a very small crack might lead to a bigger crack.
A significant split can let in air and moisture and it only grows worse after that.
Do I Really Need to Have My Home Inspected?
When you have some problems with your house which is troubling you, you should get a professional to at least take a look at it.
It may be that you don't actually have to have it repaired.
Maybe you are getting worried for no reason.
But you are better off getting it examined and learning an expert opinion.
It's common to hope that your problem just goes away, but cement cracks and defects will not fix themselves. They will not improve on their own over time.
It's always advisable to tackle the condition now and not later.
Water gradually dripping into a basement will cause troubles including mold. And those problems will just worsen over time.
If you are thinking about listing and selling your home, just remember, hardly any perspective buyer wants to buy a property that has a structure worry or presents warning signs of moisture down in the basement.
And house sellers will need to disclose all identified significant complications with their home or they could be in trouble later on.
They can come up with a plan to mend any structure challenge you have.
Try not to be worried until you get an inspection and know what you are struggling with.
Situations which can appear to a property owner to be far too hard to fix can normally get remedied.
Completing the project can be a little complicated, but the job can typically get done.
Pick the Right Northwest Chicago Contractor
They are happy to say they have been working on jobs in this home improvement field for many years.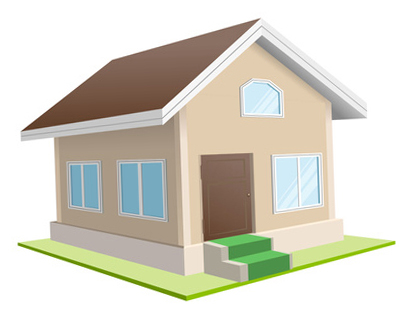 Your Palatine contractor has all the practical experience important to carry out an in-depth foundation inspection of your property and come up with an action plan deal with your situation.
This is a local contractor with the experience to do dependable foundation inspections and develop a reliable plan to treat your trouble.
What Suburbs Do They Operate In?
Service is available in the majority of neighborhoods around northwest Chicagoland. This includes Arlington Heights, Mt Prospect, Prospect Heights, Rolling Meadows, Palatine, Barrington, Deer Park, Lake Zurich, Kildeer, Inverness, Schaumburg, Hoffman Estates, Roselle, Woodfield Mall area, Elgin, Streamwood, South Elgin, Bartlett, Elk Grove Village, Bensenville, O'Hare, Rosemont and Franklin Park.
Taking On Projects Here:
Work gets done in the majority of suburbs in northwest Chicago. This includes Arlington Heights, Prospect Heights, Mt Prospect, Rolling Meadows, Palatine, Deer Park, Barrington, Lake Zurich, Schaumburg, Hoffman Estates, Roselle, Woodfield Mall, Elgin, South Elgin, Streamwood, Bartlett, Elk Grove Village, Franklin Park, Bensenville, O'Hare and Rosemont.