Basement Wet? Cracks in Your Concrete? Foundation Problem?
These pros bring sensible corrections to a number of home structure, settling concrete slab or wet basement ailments in the north Columbus areas of Clintonville, Dublin and Westerville.
For people who have one of these challenges, these folks can get it dealt with.
A professional contractor can offer some tips right on the phone, or perhaps create a time to come over to inspect your property and give a little advice on how to get it fixed.
What if I'm Not Sure There is a Problem?
It may be hard to see if you've got a serious problem at your north suburb home or not.
Some problems are nuanced and need a skilled contractor to offer an opinion.
Other difficulties may be more detectable.
And situations do turn up at both new and old buildings.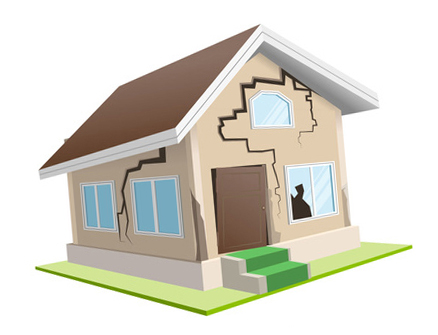 You Should Be Aware of Any of the Following Items:
• Cracking in an exterior or interior brick wall or its mortar
• New spaces around doors, especially outside doors and garage doors
• Vertical cracking in sheet rock, generally between a door frame and ceiling
• Uneven or sloping floors
• A significant crack in a cement basement floor or foundation
• Doors or windows that stick to their frames when you try to open them
• Gaps or any separation between two exterior walls or one wall and chimney
• A wet crawlspace or collection of water near your house after a rain
• Any amount of water down in your basement
• Separated or cracking interior molding, ordinarily crown or door molding
• Splits in a solid surface exterior or interior wall
• The basement appears damp and has a musty smell
• Floors are uneven, sagging or weak, or floor tiles are loose.
These Problems Can Appear Difficult and Costly to Fix
Homeowners in some instances fret that their problem is so bad, your repair job will be very hard to perform and cost them a lot of money to have it finished.
However, most of these troubles are getting solved practically each day somewhere in the town.
A number of jobs are pretty costly; other jobs are not too bad.
Certainly, these types of house repairs require a top foundation repair contractor and work crew, working with special equipment, to take care of a failing home structure, perform a house leveling process or another significant structural issue.
Dublin Basement Waterproofing
When you've got a wet basement, these professionals can determine what is causing water to drain into it.
It's possible they might be able to resolve the condition without needing to have access to your basement walls at all.
Westerville and Clintonville Concrete Mudjacking Services
Some homeowners see that a piece of their cement sidewalk, terrace, driveway or garage has sunken a little over the years.
If this taken place at your property, they can normally correct it through a procedure often called mudjacking or slab jacking.
Mud jacking is a procedure where your work team will forcefully push a mud-like or caulk-like compound beneath a low concrete slab.
This kind of dense solution amasses beneath the slab, hardens and pushes the slab to raise back up to the original level.
Sometimes property owners want mud jacking done primarily in order to raise the appearance of their property, but concrete slab raising can reduce accidents and stumbles from having uneven segments and it can help other issues, such as poor water drainage, also.
Most jobs are finished in one morning or afternoon.
Why Does This Happen?
Well, it's just the natural science of soil.
The ground underneath your home shifts and changes. It swells and contracts dependent upon contact with moisture and temperature.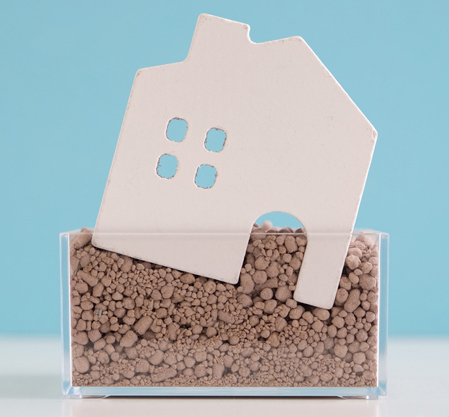 This contraction and expansion of the soil puts great stress on even a well-built house.
Okay, you can't influence the elements or the scientific makeup of the soil here around Ohio, but leaving your house rest on a badly graded lot might be looking for trouble.
If your lot does not force rainwater to go away from your home, you could have a nasty predicament down the road.
Likewise, failing to install sound rain gutters is another miscalculation homeowners can make.
Gutters are a relatively easy repair that can help eliminate water problems.
The particular physical characteristics of soil your house was built on is also a top factor as well.
Some varieties of soil may swell up more than others when they get wet.
Although, in most of Ohio, our soil characteristics is considered only mildly absorbent, so it doesn't absorb as much water or swell up as much as some soils do in a few other areas of the country.
Another factor, even though it typically isn't as frequent, is having a broad tree too close to your house.
A big tree might have vast roots that can range well under your house.
These roots might extract all the moisture out of your soil during extended dry and hot months and may even place physical tension on your home structure also.
After a while, several stress factors against your building may eventually create a smallish crack or two to take place.
And a tiny crack can result in a bigger break.
Significant splits will let in dampness and it just gets worse from there.
I Want To Put It Off And Do It Later – Is That Okay?
When you are confident you have some kind of issue at your property, you probably should have it looked over.
A checkup is not something a homeowner should put off.
You shouldn't simply dismiss it and hope that it quietly goes away. Because it will not just go away.
Foundation crack repair is a problem a homeowner should work on sooner and not later on.
Your basement foundation supports the entire building. The floors, walls, and also the roof all count on it.
In case you have an issue, you ought to take care of it today so that it won't become a worse situation later.
And if you frequently see rain water in your basement, the combination of moisture and time could lead to mold.
And getting mold growing at your home could be real trouble.
In case you're interested in trying to sell your house within the next couple of years, just realize that no buyer desires to buy a home that has a serious structural trouble or has a background of rain water damage in the basement.
And house sellers must share any identified major physical troubles with their home or they could be in trouble later.
Lots of conditions which appear to the homeowner to be too difficult to solve can generally be corrected.
Sure, they may require a complex and sometimes difficult procedure, however they can be accomplished.
Why Try These Guys?
It's good to contact a company that has been assisting Northern Columbus homeowners in the house repair industry for quite a while.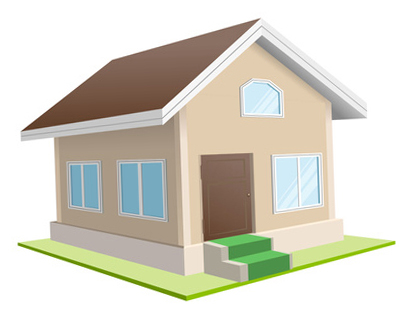 They have obtained the practical knowledge needed to carry out a foundation inspection, construct the correct plan and then resolve your issue.
The Typical Service Region
Work crews operate throughout the North Columbus metro area, including Westerville, New Albany, Minerva Park, Columbus Square Center, Worthington, Huber Ridge, Clintonville, Park of Roses, Graceland Shopping Center, Dublin and Ohio State University Airport.
Taking On Projects Here:
New Albany
Minerva Park
Columbus Square Center
Worthington
Huber Ridge
Park of Roses
Graceland Shopping Center
Ohio State University Airport
Westerville OH
Clintonville OH
Dublin OH
Most other northeast or northwest Columbus areas